Midweek Exceptional Yoga Retreat, 12 – 16/10
Noosfera Wellness & Retreat Center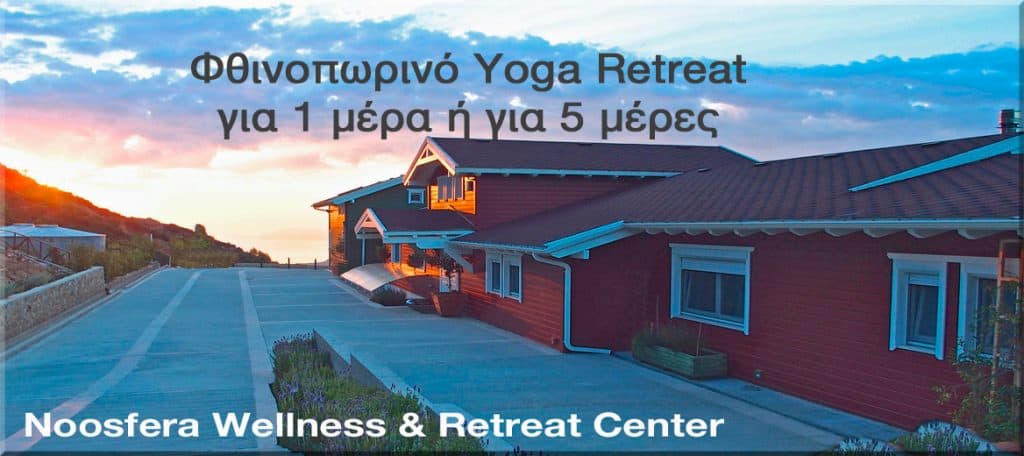 FALL RENEWAL POP-UP YOGA RETREAT
Re-Treat yourself to. Welcome the Fall season in an ideal environment for healing practices to cleanse the body, quiet the mind and uplift the spirit.
Re-treat yourself to one, three or five days at Noosfera and the precious opportunity to dive deep into the healing heart of autumn and a transformative retreat with Tina Zymarakis dedicated to practice, reflection and cleansing.
If you're feeling frazzled or burned out, this is the perfect chance to take a time-out. To allow the gift of spaciousness and enjoyment to manifest. To recalibrate, recharge and revitalize body-mind-heart and spirit.
Whether you come for one day or the full five days you will have plenty of unstructured time to do "nothing" (or work remotely, if need be) and allow the beingness of being to unfold- to curl up with a book, take walks in nature, make new friends (both human and four-legged!), to follow your bliss and restore your spirit.
During your time with us you will have the chance to benefit from semi-private deeply healing, transformational yoga practices and mindful movement expertly designed to serve your individual needs and fulfill your personal aspirations.
Morning sessions will be focused on energizing, applied, functional yoga and movement to set the tone for the day. In the evening we will draw inspiration from yoga philosophy and nourishment from healing restoratives, targeted therapeutics, and guided relaxation.
Our classes with Tina Zymarakis will be adaptive, secular, anatomically precise, breath-centered and intelligently-sequenced for optimal effectiveness. She has more than two decades of teaching experience and draws tools from a wide variety of healing modalities to ensure her students are safe, cared for, empowered, and fulfilled. Bio & approach at https://yogawithtina.wordpress.com/about/
We will be physically distant with all recommended safety precautions, yet fully connected. Allow the quiet, solitude, and introspection inspired by the practice and Noosfera to clear your mind, replenish your reserves, rekindle your strength and embark on the path to healing in an intimate, inspiring setting.
Maximum participants: 9
Tuition : 50€ per day
Accommodation B&B: 48€ twin room or 55 € single room.
Application form or more info, email:
noosferacenter@gmail.com
Tel.: 2109603094 & κιν. 6937113537
---