Wednesday 8 – Sunday 12 July 2015
THE SECRET ODYSSEY
Return Home with Odysseus

The Advent of A Great Awakening
Workshop based on Ioulia's Pitsouli book "The Secret Odyssey"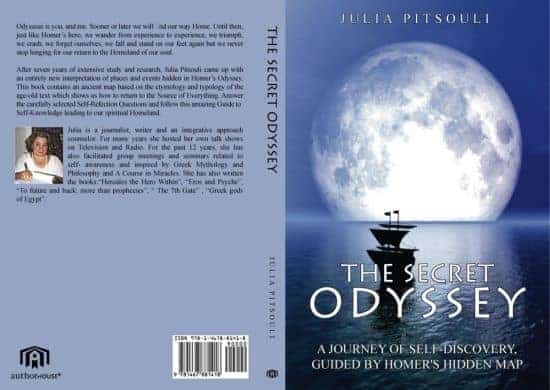 Take the 4 therapeutic keys of Homer's Odyssey and return to the Ithaca of your heart. Visit the land you are familiar with from your school books and be a part of its myth. Return home with Odysseus in an innovative workshop in Greece. With Homer's hero as your guide discover the challenges of your own life and map the way back to your spiritual homeland.
Structure of the workshop

1st day : The Adventure
The Cyclops, the land of oblivion, the mesmerizing sorceress, the visit to the underworld, the contradicting forces, the opponents and the helpers of Odysseus . Discover their presence in the story of your life.
2d day :The Treasure
Evaluate the price paid. Remembering and taking distance.
3d day: The Decision
" I am nobody anymore. I am Odysseus the king of Ithaca and I want to go home!" Time is right to face and purify the opponents, contradicting forces.
4th day: The Homecoming
Triumphal reinstatement in the inner kingdom. The reunion with your Higher Self and the Source.
Facilitators: Ioulia Pitsouli – Author of The Secret Odyssey
Maria Xifara psychologist, psychotherapist
Where: the workshop location is Noosfera Center, a purposely-built complex of wooden cottages created for self awareness and psychology seminars, yoga and tai chi workshops, alternative holidays, educational and recreational events focused on spiritual development and consciousness expansion.
Cost 740€ Included: The 4-day experiential workshop , matterials, double occupancy accomodation with private bathroom and mini fridge , free wi-fi. Amenities: slipers, shampoo, shower gel, bath cup, hair dryer. Full board ( breakfast, lunch and dinner) with fresh, homemade delicious food enriched with organic vegetables and eggs from Noosfera's garden and chickens. Transfer from/to the nearest train station (Kiato) to Noosfera.
Single use of the room + 20€
Language: English.
Registration – Information
Email: noosferacenter@gmail.com,   tel.: +210 8074654 – +2109603094 –  6932 367147 – 6937 113537
About the Author
Julia (Ioulia) Pitsouli is a journalist, writer and an integrative approach counselor. For many years she hosted her own talk shows on Television and Radio. For the past 12 years, she has also facilitated group meetings and seminars related to self- awareness and inspired by Greek Mythology and Philosophy and A Course in Miracles. She has written 6 books: "The Secret Odyssey" "Hercules: the Hero Within Us" "Eros and Psyche" "To future and back: More than prophecies" "The 7th Gate" "Greek Gods of Egypt". More: https://www.noosfera.gr/staff-view/julia-pitsouli/?lang=en
About the Book
Homer's Odyssey is interpreted on multiple reading levels. And it contains many secrets.
After seven years of extensive study and research, Julia Pitsouli came up with an entirely new interpretation of the Odyssey, deciphering the etymology of names and the typology of places and events.
Hidden in Homer's words are the secret keys to liberation and understanding the true nature of things. Answer the carefully selected Self-Reflection Questions and follow this amazing Guide to Self-Knowledge; a guide leading to our spiritual homeland. More:http://www.noosfera.gr/κατάστημα/books/the-secret-odyssey-paperback/?lang=en or http://www.amazon.com