An alternative place for group activities and events
Welcome to Noosfera Center, a purposely build complex of wooden cottages created for self awareness and psychology seminars, yoga and tai chi workshops, alternative holidays, educational and recreational events focused on spiritual development and consciousness expansion.
Our Philosophy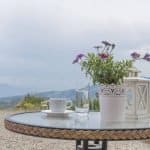 Noosfera Center reflects our personal need for a seminar place which can accommodate small groups (up to 35 persons) and which, unlike impersonal hotels or makeshift, uncomfortable ascetic cells, stands out because of our personal touch. We believe that the person who seeks peace, joy and truth about himself will also be inspired by the beauty of the mountains and the sea in the horizon that surround the land, but also by the tastefulness of the area itself. We wish our visitors to feel the warmth and the intimacy and draw joy and inspiration from the great – the expansion of consciousness as well as the small – the hand painted details on the keys, the feng- shui fountain at the entrance, the colorful flowers and the telescope.
Our Goal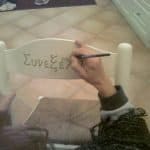 To make Noosfera Center a meeting point for groups, teachers and healers from Greece and abroad so that there is a continuous flow of events throughout the year. For this reason we seek like-minded collaborators in order to form together an alternative way for people who wish to escape the daily routine for one day, for a weekend, a week or more.
Leasing
Noosfera Center is available for rent to groups that would like to host their events or offer an activity for one or more days. For more information you may contact us by phone at +302109603094, +306932367147, +306937113537, or send us an email to info@noosfera.gr, or noosferacenter@gmail.com