Journalist, writer and mental health counselor
---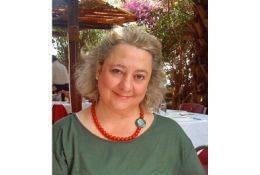 As a journalist, she has collaborated with major magazines ( Elle, Marie Claire, etc.) and with broadsheet newspapers and for several years presented her own television and radio shows.
She has written 6 books: "Mystic Odyssey," "Eros and Psyche," "The Valley of the Roses 4000 a.D., a critical analysis," "The Seventh Gate," and "Greeks, the gods of Egypt", "Hercules, the Hero within". "Mystic Odyssey" is also published in English.
Since 1997 she facilitates groups in self awareness, gives lectures and presents seminars and workshops drawing inspiration from the Greek mythology and philosophy as well as from A Course in Miracles. Since 2010 she is a certified Outreach Facilator for the Excursion Workshop of the Monroe Institute in Greece.