JUNE, Saturday 24 – Friday 30, 2017


A unique experiential workshop based on Homer's Odyssey and it's similarities to your own life!
Discover your inner splendor taking your personal sacred life journey, based on the secret map of Homer's Odyssey.
The Greek symbol of eternal traveler leads the way and teaches you how to navigate and overcome the challenges in your life's trip.

Noosfera Wellness & Retreat Center invites you to Greece to a unique self discovery experiential  workshop combined with vacation, swimming in the Mediterranean blue sea and visit to Ithaca island, Odysseus home-land.
Specially designed experiential and meditation exercises representing the stages of Odysseus trip are leading you to find the answer to your soul's deepest longing: to return to your spiritual home-land.
This unique experiential workshop, designed by a group of psychologists, is based on Julia Pitsouli's book The Secret Odyssey: a deciphering of Homer's epic poem. The author herself co-facilitates the workshop supporting your inner trip to your deeper strength and wisdom.
Know yourself and your true splendor in the country that gave birth to philosophy, art and civilization. Let the ancient mythology, contemporary psychology and the energy field of a powerful place in Greece be your guides in this inner miraculous trip within.
At the end of the workshop you will have the option for an additional two days trip to Odysseus home-island Ithaca!
In the workshop you will:
Be guided to an inner exploration trip through the experiences Odysseus and discover the empowering soul secrets of this Heroic Voyager.
Find guidance to fulfill 12 life goals.
Be inspired by guided meditations for your sacred life journey.
Meet the Hero within you.
Be surprised by innovative group exercises giving you new insights for your life and improvement of your relationships.
Also, as the sea is the main theme of the workshop you will have the chance to swim in the sparkling blue Mediterranean waters. This unique week will give you enough free time for swimming, sharing with the other participants, explore the area and enjoy the nature. Delicious home made organic food and a number of optional recreational activities such as Tai-Chi or Yoga classes, reflexology and massage sessions are enriching your experiences.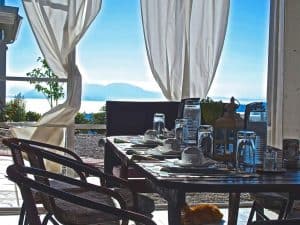 Cost: Early bird up to 24 April 1295 € (plus 24% taxes) all inclusive.
After 25/4 1395 € (plus 24% taxes) all inclusive.
Discount 10% if two people sign together.
Special student's discounts.
Single use of the room + 20 € per day.
Including:
> The 6 days workshop "Discover your life's Sacred Odyssey".
> 6 nights accommodation at Noosfera Wellness & Retreat Center in comfortable twin en suite rooms equipped with mini fridge and fans.
> 18 meals (breakfast, lunch, dinner).
> Transfer from and to the nearest train station (connecting to Athens airport).
> Workshop materials for each participant.
> Three Tai Chi or body balance classes.
> One cooking class on ancient Greek kitchen.
> Guided meditations with Hemi-Sync® audio technology.
> Session with Gongs.
> Amenities : slippers, shampoo, shower gel, hair dryer.
> Free Wi- Fi.
> Free use of the Gym.
> Tips.
Optional : Two days trip to Ithaca ,Odysseus island-kingdom, and the nearby Kefalonia (additional cost)
Registration: info@noosfera.gr

Tel. +302109603094 – +302743027451

Mob. +30 6937113537
The itinerary
1st Day : The Adventure
The Cyclops, the land of oblivion, the mesmerizing sorceress, the visit to the underworld, the contradicting forces, the opponents and the helpers of Odysseus . Discover their presence in the story of your life.
2nd Day :The Treasure
Evaluate the price paid. Remembering and taking distance.
3rd Day: The Decision
" I am nobody anymore. I am Odysseus the king of Ithaca and I want to go home!" Time is right to face and purify the opponents, contradicting forces.
4th Day: The Homecoming
Triumphal reinstatement in the inner kingdom. The reunion with your Higher Self and the Source.
What participants say about The Secret Odyssey workshop:
" It was extraordinary from the beginning to the end. It brought me in touch with my inner strength and made me feel stronger to travel anywhere in life" Pantelis Ch.
"I have not experienced before something like this! I think I will take it with me for the rest of my life", Helen P.
" It was an extraordinary experiential workshop! I am deeply moved. Thank you from the bottom of my heart!" Miranda G.
" It had such a grandiosity. The experience was inconceivable, I am moved in my whole being " Teta V.
" There are no words to describe how I feel. I am really speechless", Maria P.
" The most important is that the experiential exercises sowed me the way to find an application to combine everyday life with spirituality. I wish it will be repeated for other lucky participants to rejoin." Fotini L.
Your guides to this soul trip :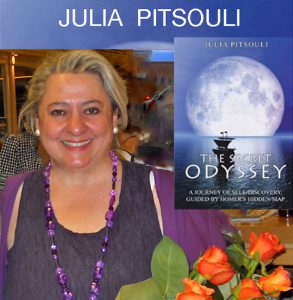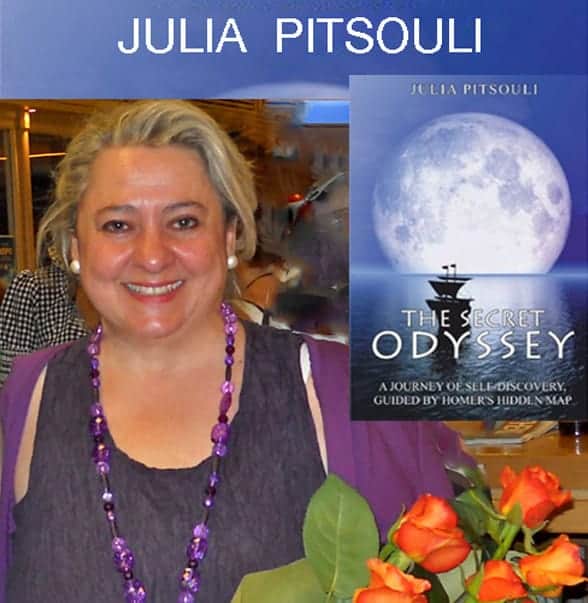 Ioulia Pitsouli Journalist, writer and mental health counselor
Ioulia's focus as a journalist in her numerous articles, radio and tv shows was the bridging of material and spiritual dimensions. Since 1997 she is absorbed in giving lectures and workshops and facilitating groups focused in self awareness and expansion of consciousness, drawing inspiration from the Greek mythology and philosophy as well as from A Course in Miracles. She is a certified Outreach Facilitator of the Monroe Institute and co-founder of Noosfera Wellness & Retreat Center. Ioulia is the author of 6 self –help books: "The Secret Odyssey," "Hercules the Hero Within" , "Eros and Psyche" , "The Valley of the Roses 4000 a.D. a critical analysis," "The Seventh Gate," and "Greeks, the gods of Egypt". She is the co-founder of Noofera Center. Together with Maria Xifara and a team of experts are the creators of innovative self- expansion workshops exclusively offered at Noosfera Wellness and Retreat Center.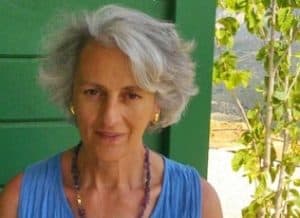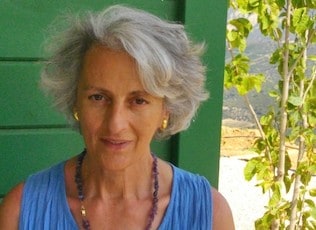 Maria Xifara Psychologist – psychotherapist
Maria studied at the University Paris VII and continued her education in the complimentary psychotherapy fields in Hypnosis, EMDR, NLP, Energy Psychology, EFT, TAT. As a psychotherapist in her private and group sessions Maria is focused on forgiveness. Since 1997 she facilitates groups in self –awareness and empowerment and study of A Course in Miracles and presents relevant experiential seminars and workshops. She is a certified outreach facilitator of the Monroe Institute and the co-founder of Noosfera Center. Together with Ioulia Pitsouli and a team of experts are the creators of innovative self- expansion workshops exclusively offered at Noosfera Wellness and Retreat Center.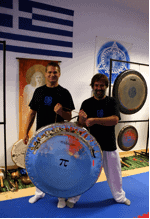 GongLove ArtLab specializes in the field of Gong Music Therapy conducting Echocatharses© – Gong Therapy Sessions with high specifications, bringing knowledge about gong therapeutic qualities to a broader audience. Founders and directors of GongLove ArtLab are physicist Jason Volakis and Konstantinos Perreas, martial arts and yoga instructor.

Information – Registration: info@noosfera.gr

Tel. +302109603094 – +302743027451

                        Mob. +30 6937113537
---