YOGA THERAPY TRAININGS in Greece ~ Summer 2020 (400 hours)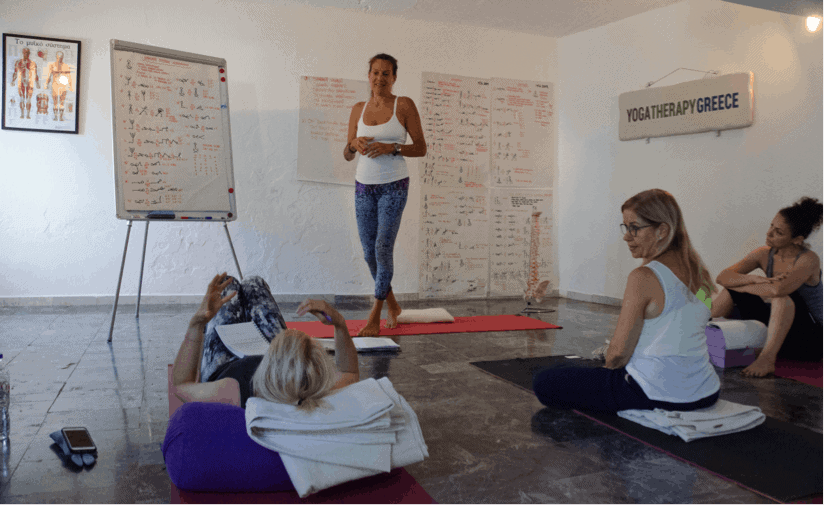 400 HOURS YOGA THERAPY TRAINING
By an experienced Certified Yoga Therapist of YOGA THERAPY GREECE
From 10th of July 2020 – 2nd August 2020, at Noosfera Estate, Greece
(Plus details of optional 800 hours accredited Yoga Therapy Studies to become Certified Yoga Therapist by IAYT)
Our vision
Is to give the best Yoga Therapy Training possible and our graduates to be proud of their choice to study with us.
We work hard for our students to become great yoga therapists that can facilitate the transformation of their clients to become the best version of themselves.
The most intensive and complete Yoga Therapy Diploma in Europe. Uniquely the 400 hours course includes 254 contact hours. 200 hours in the 3 weeks and the rest spread over 10 months via 12 webinars and ongoing mentoring through the internet. The monthly webinars follow up and deepen the knowledge we have already shared in the summer training as well strengthening participants weakness that are highlighted from your assignments.
Our 400 hours Yoga Therapy Programme will enable you to give 1 to 1 Yoga therapy sessions and work therapeutically with groups as it is. It is a program in where you as a yoga instructor will learn everything you need to know about applying Yoga Tools in order to give Yoga Therapy.
The Yoga Therapy Greece's Yoga Therapy Diploma follows the newest standards of the International Association of Yoga Therapists (IAYT) in terms of methodology of Yoga Therapy, the Yoga Therapy Tools and Therapeutic Skills, the topics of the Curriculum, the Practicum, Mentoring, contact hours, Ethical Principles etc.
As IAYT member school we are in the process of applying to get our 800 hour Yoga Therapy Training accredited and we fully anticipate that we will be by end of 2020 and as such by completing this 400 hour training it would mean you have the chance to continue towards the 800 hours fully accredited studies and become Certified Yoga Therapists C – IAYT (Certification from the International Association of Yoga Therapists).
Our 400 hours Yoga Therapy Training program
200 contact hours in 3 weeks Training in July 2020, in Greece
12 webinars of 4 hours within a year making 48 contact hours
6 hours of personal supervisions, and 46 hours in 3 case studies and assignments
100 hours of practicum with your own clients
2nd Optional part of 400 hours (giving a total of 800 accredited hours) for C-IAYT
200 contact hours in 3 weeks Training in August 2021, in Greece
13 webinars of 4 hours within a year making 52 contact hours
6 personal supervisions and 42 hours in 3 case studies and assignments
100 hours of practicum with your own clients.
Learning Tools/Modalities of our 400 hours Yoga Therapy Training included in the cost
20 full days with the leading Certified and Experienced Yoga Therapist
Sharing valuable theory about methodology of Yoga Therapy, Yoga Therapy for Structural issues, Women's Health, Mental Health, Medical conditions, about sequencing, breathing ratios, asanas modifications, pranayamas, ayurveda, yoga nidra, meditation etc.
Sharing our precious experience of working with hundreds of clients
Sharing & decoding practices with asanas, pranayamas, breathing ratios, mantras, chanting, yoga nidra, meditation for more than 20 conditions we explore for groups / individuals such as for lower back, knees, shoulders, neck, menopause, hypertension, asthma, depression, anxiety, grief, constipation, insomnia, fatigue etc. You can then easily give your own workshops on these topics.
Morning practice by yourself of the practices you have learned.
Giving yoga therapies to participants, explain the rationale for these and the way to keep records working with your clients.
Take away your personal yoga therapy practices
Practice the extremely important breathing postural and movement assessments in groups and in couples in order to be able to design for them specific practices.
6 hours of personal supervision and guidance through emails & skype
For the 3 case studies with real clients of yours
For the 100 hours practicum (the documented practice) with your clients
Feedback on the assignments completed within the following 10 months.
12 Live Webinars over 10 months on very important subjects where
We present and deepen on subjects that we touched on during the summer
Includes Power points that you can download and refer to afterwards
An amazing Manual of 300 pages to refer to and to support you for years
A well selected Reading list that will further empower you as a professional Yoga Therapist
You will learn how to build a therapeutic relationship, how to read different bodies and how to build yoga therapy practices based on people's goals and needs, incorporating all Yoga Models such as postural and breathing observations, ayurveda principles such as vayus, koshas, doshas, as well as tantra elements like, mantras and mudras, as well as asanas and pranayamas and the way to modify and personalize them.
Yoga Therapy Greece gives equal importance to Deep Knowledge, a high standard of Ethics, compassion and mental stability.
Minimum entry Requirements
200-hour yoga teacher training, such as a Yoga Alliance 200-hour registered school program (RYS 200) or equivalent. Plus one years teaching experience.
ADVANTAGES/ UNIQUE CHARACTERISTICS OF OUR 400hours TRAINING
· This is the only Yoga Therapy Studies where you fly only once but you are supported on a monthly basis by webinars, supervision and detailed assignment feedback over 10 months.
· Monthly contact with the teachings through the webinars. To keep your knowledge fresh and to work on any weaknesses.
· Direct support through supervisions prior and during your work with your clients in Case Studies & Practice throughout the year.
· Sincere sharing of deep knowledge and experience in Yoga Therapy, Viniyoga, Restorative Yoga, Yoga Nidra, Physiotherapy and latest Research.
· Take away with you more than 30 group / individual sequences that can be used for your own workshops. Including the very popular life changing Women's Health Workshop
· Observation and Explanation of Yoga Therapies in front of you
· Experience your own Yoga Therapy and take away your personal practice
. 23 nights' accommodation and meals in a very beautiful retreat among the mountains, with two free days where you can swim in the beautiful crystal clear and warm sea of Greece.
· Learn deeply and Practice again with classmates as patients in terms of Structure, Breath, Way of Thinking, Psychology and Spiritual awareness (five categories/koshas Annamaya, Pranamaya, Manomaya, Vijnamaya, Anandamaya) as well as of Ayurvedic constitution and be able to practice in a safe and supported environment Yoga Therapies before you start giving Yoga Therapy Sessions with the clients in your case studies and in general.
THE PROGRAM
The intensive 400 hours Yoga Therapy Training starts on Friday 10th of July 2020 and finishes on Sunday Morning 2nd August 2020 after a breakfast. It takes place for 20 days besides the 2 free days (Sunday 19th & Sunday 26th July), making it total of 23 days with the arrival day.
1st day – Welcome, orientation, registration plus dinner.
2nd to 5th day – 4 days Methodology of 1-2-1 Yoga Therapy Sessions, we learn
To interview and connect with clients
To read peoples' breathing, posture and movement through specific practices
To come up with the ayurvedic constitution and what/how might need balancing
To use the different Yoga Models like Vayus, Chakras, Koshas
To come up with yoga therapy strategies through critical reasoning
To choose the most suitable Yoga practices (Asanas, Pranayamas, Mantras, Sankalpa, Mudras, Restorative practice, Relaxation, Yoga Nidra), based on the overall needs and goals of the client
The role and function of the asanas
To modify asanas and breathing ratios
To sequence a therapeutic practice
To draw practice sheets with stick figures
To keep professional documentation of the 1-2-1 Yoga Therapy Session
To use props for suitable Restorative yoga practices according to different needs
To practice these elements in groups and in couples
The last evening you watch Yoga Therapy in real, where all these elements are incorporated and explained in practice.
6th to 9th day – 4 days Yoga for Muscular Imbalances where we learn
The anatomical aspects of the asanas
To recognize and address the root of the structural condition with specific asanas
Specific therapeutic Yoga practices and the rationale behind the Yoga Therapy applications for Muscular Imbalances regarding the Feet, Knees, Hips, Pelvis, Lower Back and Upper Back, Neck, Shoulders, Elbows, Wrists and the different types of Scoliosis
Through practicing specific sequences for each condition and through sharing deep knowledge based on physiotherapy and yoga therapy
Key Asanas adapted and practiced in Chair Yoga.
The last evening you watch Yoga Therapy in real, where all these elements are incorporated and explained in practice.
10th day FREE DAY (breakfast and dinner are included)11th to 14th day – 4 days for Yoga for Nervous System and Mental Health
We learn about the Mental health Issues and we practice what Yoga can offer based on the latest findings in Neuroscience and body-oriented psychotherapy for restoring balance.
We learn how to design practices for groups of students with similar conditions and how to develop the best tools for balancing the Nervous System by activating the Sympathetic and/or Parasympathetic System (brahmana or laghana accordingly) through the breathing ratios in the asanas practice, the sequencing, the Pranayama & Mantras as well as by learning to design Yoga Nidras.
Through practicing specific sequences for all these issues and explaining the rationale for each of the practices we share deep knowledge on these crucial issues.
We focus on these areas:
We will learn how to incorporate chanting and japa mantra into the practice of asana, making the practice meditative.
Understanding and working with Trauma
Exploring practices for Depression & Anxiety
Addressing Fatigue and Sleep disorders
Pain & Chronic Pain Management
Addictions – Anorexia Nervosa & Bulimia
The last evening you watch Yoga Therapy in real, where all these elements are incorporated and explained in practice.
15th to 16th day – 2 days Yoga for Women's Health. We will learn about
The Menstruation and the influence of the Hormones in the different cycles of it and
What Yoga can offer for conditions like Heavy, Irregular or Absent Menstruation, Fertility, Diastasis of Erectus Abdominis, Menopause, Incontinence, Prolapsed organs, Endometriosis, Fibroids, Low libido
Practice the most Nourishing Womb Friendly Yoga Practices for each week of the cycle and specially designed Yoga Nidras for different phases of women's lives.
Explore Arthritis and Osteoporosis and relevant practices
17th FREE DAY (breakfast and dinner are included)
18th to 20th day – 3 days Yoga for Immunity, Auto- Immune of Neurological, Endocrine, Digestive System and Functional disorders. We will learn about the function of the Immune System and how does Yoga affect it.
We will focus on Multiple Sclerosis, Parkinson, Diabetes, IBS, Cancer, HIV, etc.
­21st to 22nd day – 2 days Yoga for Respiratory & Cardiovascular health Issues. We will learn how to incorporate breathing ratios according to pathophysiology. We go through
Respiratory conditions like Asthma, Bronchiectasis, Lung Cancer,
Cardiovascular like Hypertension, Arrythmias, Heart Failure, Hypotension
Which Yoga Practices such as asanas, breathing, visualizations, restorative yoga can help and why
23rd day – Participants will practice Yoga Therapy & we will share Professional and Business Issues of Yoga Therapists
24th day Goodbye day and the start of an on-going mentoring through personal supervisions that will support you in the first yoga therapies that you will give and through feedback on assignments.
After the breakfast we leave full of knowledge and deep understanding of the Clinical Applications of Yoga Therapy.
THE DAILY SCHEDULE
7:30-8:30 PRACTICE
8:30-9:30 BREAKFAST
9:30-13:30 LECTURES & PRACTICES
13:30- 15:30 BREAK FOR LUNCH (NOT INCLUDED), REST, WALK, RELAX
15:30-19:30 LECTURES & PRACTICES
19:30-20:30 DINNER
20:30-21:30 QUESTIONS & ANSWERS
WEBINARS
For the 400 hours throughout the year.
Sequencing and development of Practice in 4-8 sessions
Working with Scoliosis
Practices for Hip-Knee Replacement and Spine Surgeries
Presentation of Structural Case Studies
Chair Yoga
Presentation of Mental Health Case Studies
Presentation of Women's Health Case Studies
Presentation of Physiological Case Studies
Menopause
Deepening in Ayurveda
Emotions-Feelings-Mood -Chakras
Trauma
For the optional 2nd part of 800 hours training throughout the year
Pain and Chronic Pain
Pelvic Floor Health Practices
Brain Injury and Stroke Practices
Working with Therapeutic groups
Practices for PAD & Heart Failure
Practices for Diabetes & PVD
Headaches and Migraines
COPD & Cystic Fibrosis
Addictions
Meditation and Yoga Nidra
Cancer
Searching and using Research Articles in Yoga Therapy
Professional Issues of Yoga Therapists
THE LEADING INSTRUCTOR & YOGA THERAPIST
Evi Dimitriadou is a Certified Yoga Therapist by the British Council of Yoga Therapy, a member of International Association of Yoga Therapists (IAYT), a Certified Advanced Yoga Teacher (E-RYT500) with Yoga Alliance, a YACEP (Yoga Alliance Continuous Education Provider) and founder of Yoga Therapy Greece (RYS-300).
A student of Gary Kraftsow at the American Viniyoga Institute in the Clinical Applications of Yoga Therapy for 2 years, has completed 2 years of Yoga Therapy Studies at Yoga Campus in London and 1 year at the Aura Wellness in USA as well as being a Student of Physiotherapy with Manchester University for 3 years.
She has given more than 1500 personal Yoga Therapy Sessions to people with various ailments and given numerous Yoga Therapy Trainings as well as Yoga Therapy workshops to Yoga Instructors and Practitioners.
She has a passion to share Yoga Therapy and enable Yoga Instructors to help people in need as she does with her on-going support.
Yoga Therapy Greece is a Member School of the International Association of Yoga Therapists.
LOCATION
Noosfera Center is a truly great location for our training and is an amazing, serene and very loveable place.
It is in the northern Peloponnese, near Xylokastro. Built in an altitude of 700 meters offers a milder climate and it enjoys superb views of the mountains and the sea. The sea is only 11km (by taxi around 25 euros) from the retreat.
Distance from Athens International Airport Eleftherios Venizelos to Noosfera Estate: 148 Km (circa 2 hours).
Distance from Kiato railway station to Noosfera Estate: 57 Km (circa 50 min). We recommend you take the train from the airport until Kiato which is the last stop and from there a taxi to the retreat that costs less than 50 euros.
It consists of two complexes of buildings. In the first you will find the cosy living room with its amazing view from the bay windows, the lovely dining room, the pergola (overlooking the surrounding mountains and on the horizon the sea) where the summer dining room lies and the kitchen where delicious home-made meals are prepared. Most of the fruits and vegetables come from Noosfera's own garden.
The lower level has the libraries, and the atmospheric wellbeing section where rejuvenation services for body and face are offered. In the Guesthouse and Seminar Hall of the second building complex are located ten elegant rooms all with private bathroom and equipped with mini-fridges. The very beautifully appointed guest rooms are designed without phones or TVs in order to maximize time for quiet, peaceful reflection and renewal. They have been named after trees, herbs and flowers and are each decorated accordingly down to the last detail – soft pillows on the couch, orthopaedic mattresses, duvets and sheets of excellent quality.
The Yoga / Seminar Hall is light, airy, spacious, comfortable and cool.
The owners Maria and Julia built this property for their own retreats and this shows everywhere with their unique personal touch from the hand painted keys and chairs to the careful consideration of Feng-shui throughout. Their belief is that the person who seeks peace, joy and truth about himself will also be inspired by the surrounding land, the beauty of the mountains and the sea on the horizon, but also by the tastefulness of the area itself.
For more info you can visit the website of the retreat. https://www.noosfera.gr/en/.
For more information, prices and a booking form please contact us at brian@yogatherapygreece.com
WHAT IS NOT INCLUDED
Lunches
Private massage
Beach towel
Flights
Travel Insurance
Transfers from and to the airport (although share rides among participants are facilitated where possible).
FREQUENTLY ASKED QUESTIONS
1.Is the Yoga Therapy Diploma accredited by Yoga Alliance?
For legal reasons Yoga Alliance does not accredit any Yoga Therapy studies. They only accredit teacher training.
2.Can I come early and stay later?
You will not be able to stay at the centre but Greece has many amazing holiday locations and we highly recommend that you spend a few days in Athens visiting the ancient sites, enjoying the Greek culture and cuisine, or visit one of the many beautiful islands with great beaches and warm clear blue sea.
3.Do I need to be a Yoga Teacher to attend the course?
You will need to have completed the 200 hours of a Yoga Teacher Training programme. If you are unsure please get in touch.
4.When will I graduate and receive my diploma?
Following completion of the three week intensive course in Greece it takes about 12 months to complete the assignments, case studies and webinars.
5.What if I decide not to complete the assignments, case studies and webinars?
In this case we can issue a Certificate of Attendance for 200 hours. However we highly recommend that you complete all of the course as the assignments, case studies and practicum are a large part of the learning process, especially considering the mentoring that that you will receive. You also will lose the possibility of using this 400 hour training as a foundation of the 800 hour training leading to C – IAYT.
6.What if I decide not to complete the 100 hour practicum.
Then you will be issued 300 hours of certification.
7.Why can't the 400 hours training be accredited by IAYT?
IAYT have extremely high standards and accredits only a minimum 800 hours training.
8.How does the supervision take place?
The supervision takes place through e mails and Skype. As soon as you send your first clients completed Yoga Therapy questionnaire you will get an e mail with guidelines and then we Skype where we will explain the rationale and establish practices together. In total there are 6 private personal hours supporting you on your professional path as a Yoga Therapist in a one to one setting or in a group setting.
9.How can I work as a Yoga Therapist?
Upon completion of the 400 hour Yoga Therapy Training you can have your own private Yoga Therapy Clinic and give 1-2-1 sessions or work with therapeutic groups. Our graduates also work in Yoga Studios or in a complimentary capacity in health care centres, physiotherapy centres, and community centres in collaboration with homoeopathists, physiotherapists, psychotherapists, nutritionists etc. But you would have to check your countries specific requirements for certain health care jobs.
10.What if I have to leave for some reason in the middle of the summer training?
You are then welcome to join us the following year to complete your training. But unfortunately we cannot refund the accommodation costs or the tuition.
11.Is there any further cost for the 12 months of assignments, webinars and case studies once I have finished the 3 weeks in Greece?
There are no further costs. This is the beauty of our intensive training, it means that you only have to travel to abroad once and then all the back-up, mentoring and webinars are carried out on your computer.
12.As lunch is not included what are my options?
For lunch the centre will offer a reasonable priced option of a light snack, sandwiches etc or a cooked lunch depending on what you want. Alternatively before you arrive you can buy fruits, bread, nuts etc (there is a fridge in your room) and on your 2 days off you can get some things on your way back from the beach.
13.Once I have completed the 400 hours how long will it take to get the 800 hours full C -IAYT?
You will come back to Greece for a further 20 days of intensive training (in this case in summer 2021) you will than have approximately 14 months of webinars, assignments, case studies and time for completion of the 100 hour practicum (recorded documented practice with real clients). Although this may be a little longer depending on you and completion of your practicum etc.
14.What are the modules of the 2nd optional part of 400 hours (giving a total of 800 accredited hours) for C-IAYT ?
20 full days with the leading Certified and Experienced Yoga Therapist where the leading yoga therapist gives yoga therapy to clients, repeat, remind and deepen in the shared practices and principles and the participants give yoga therapies to other participants and real clients.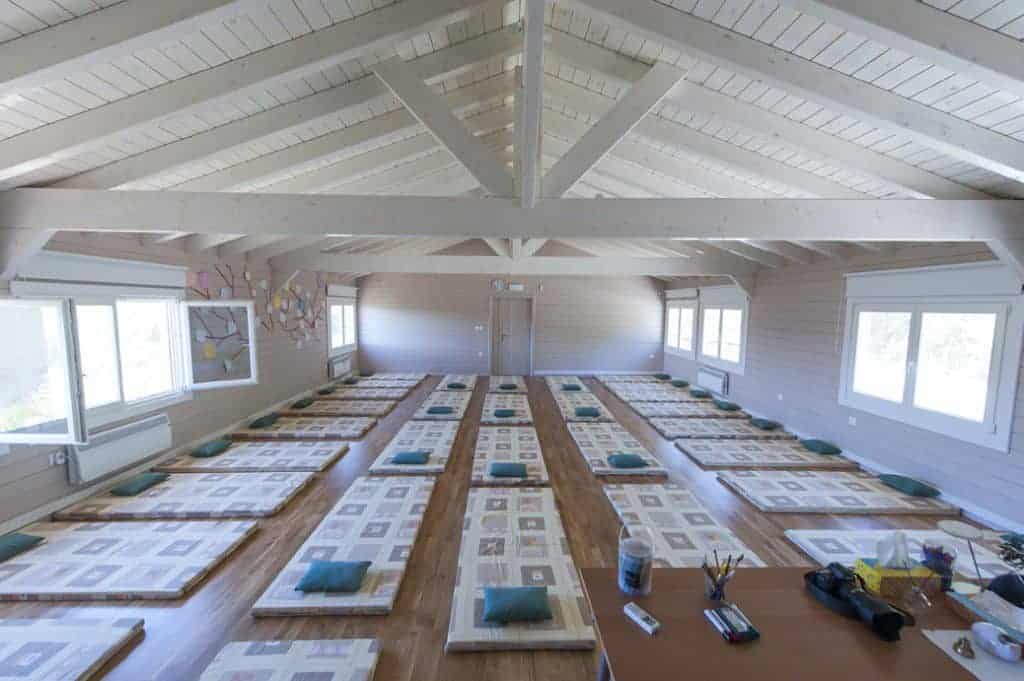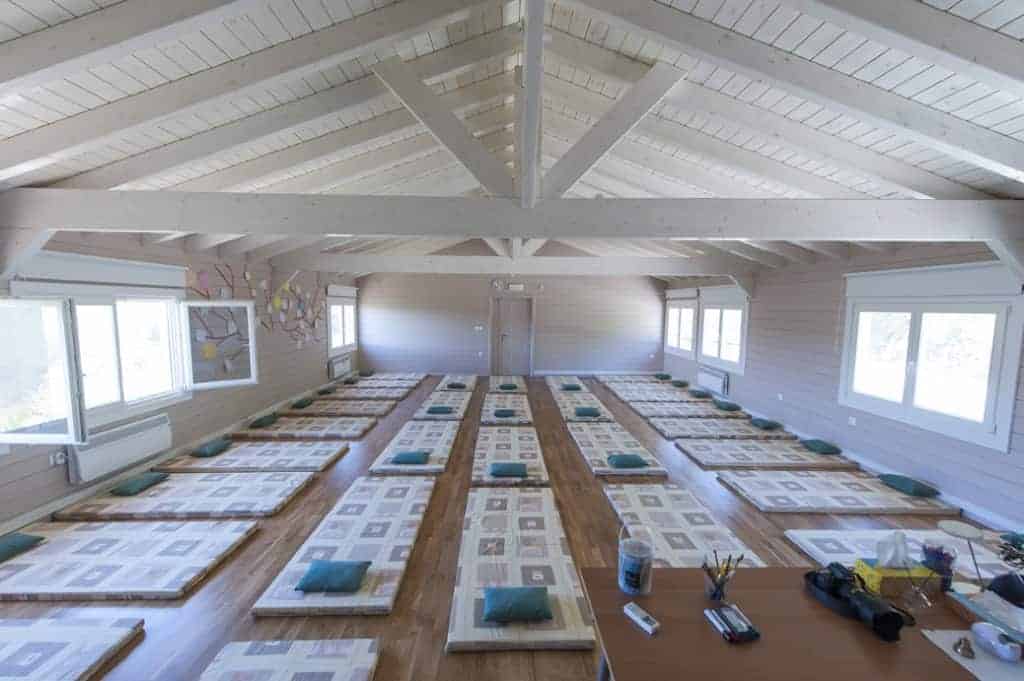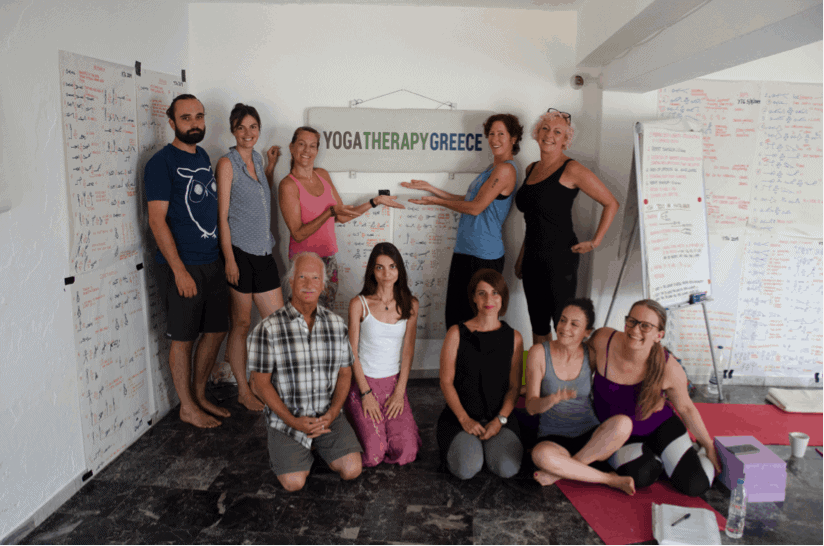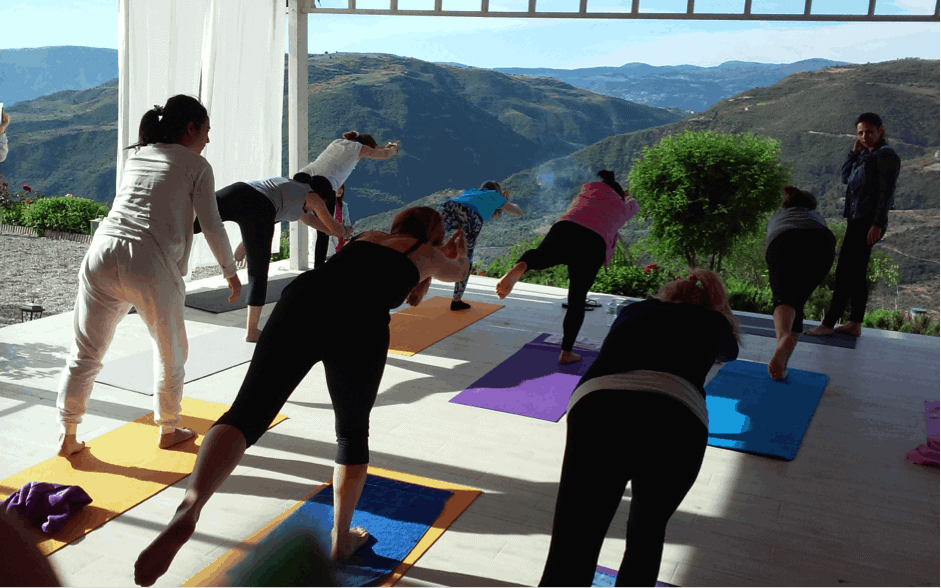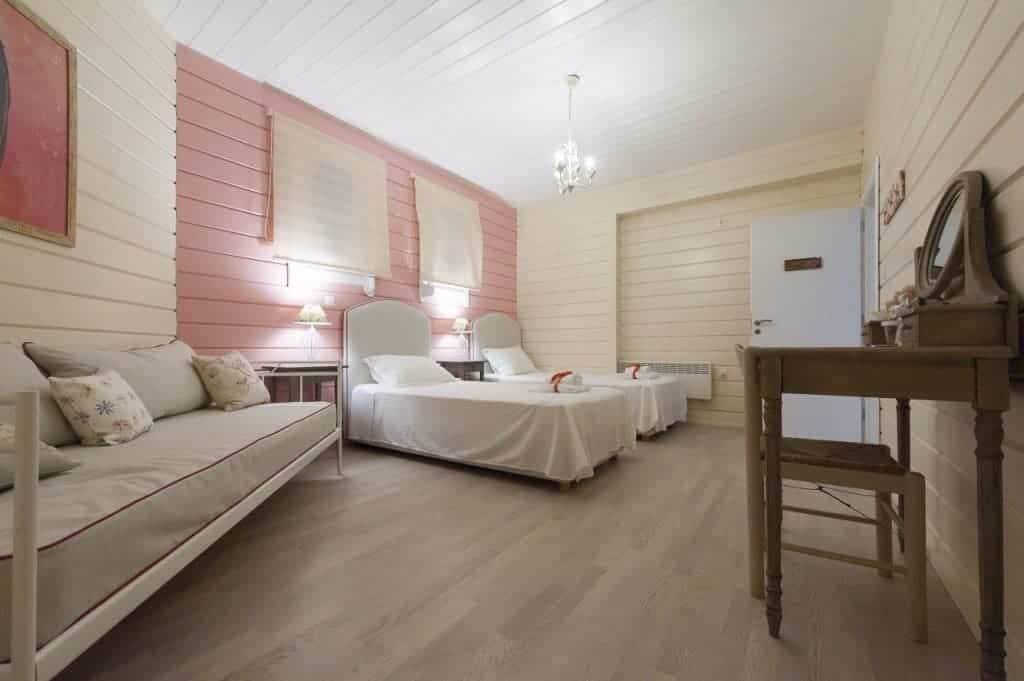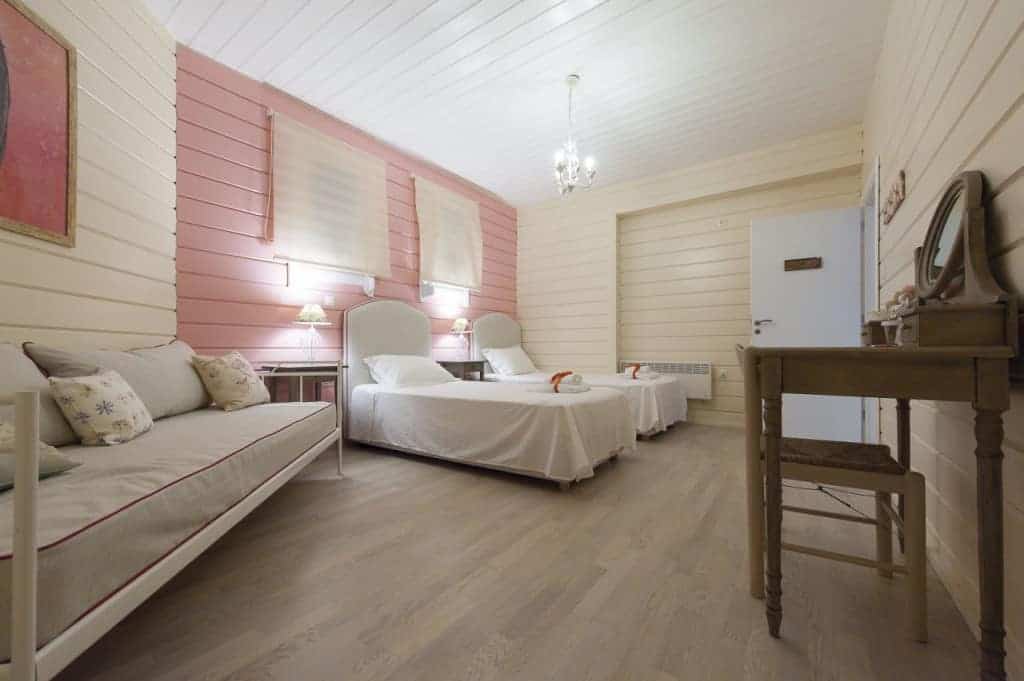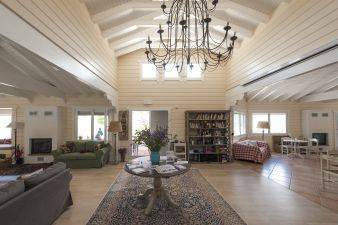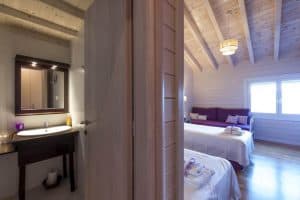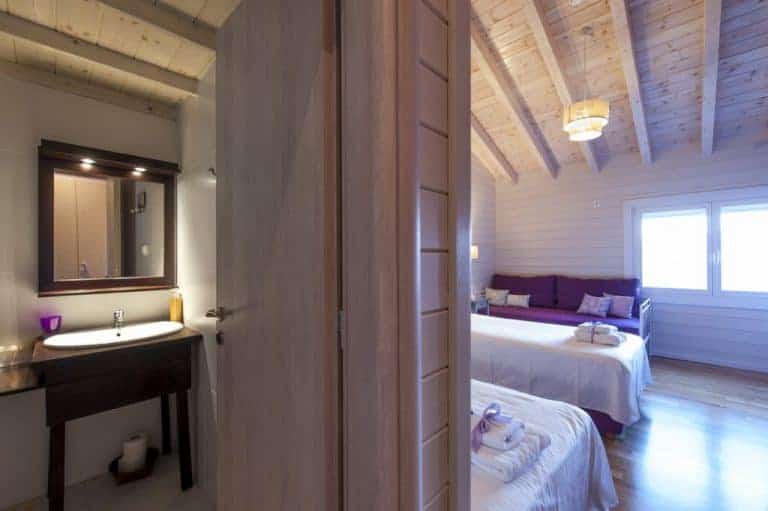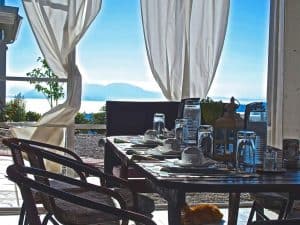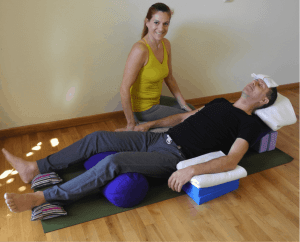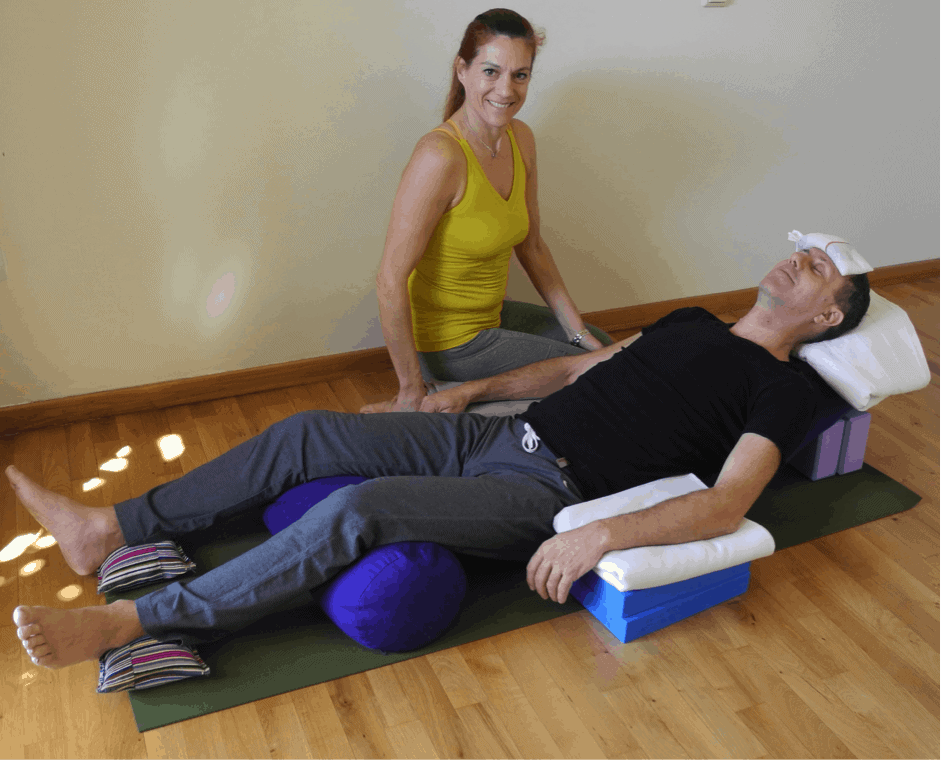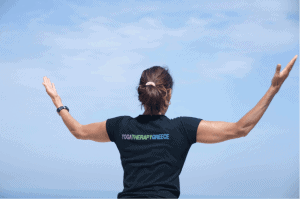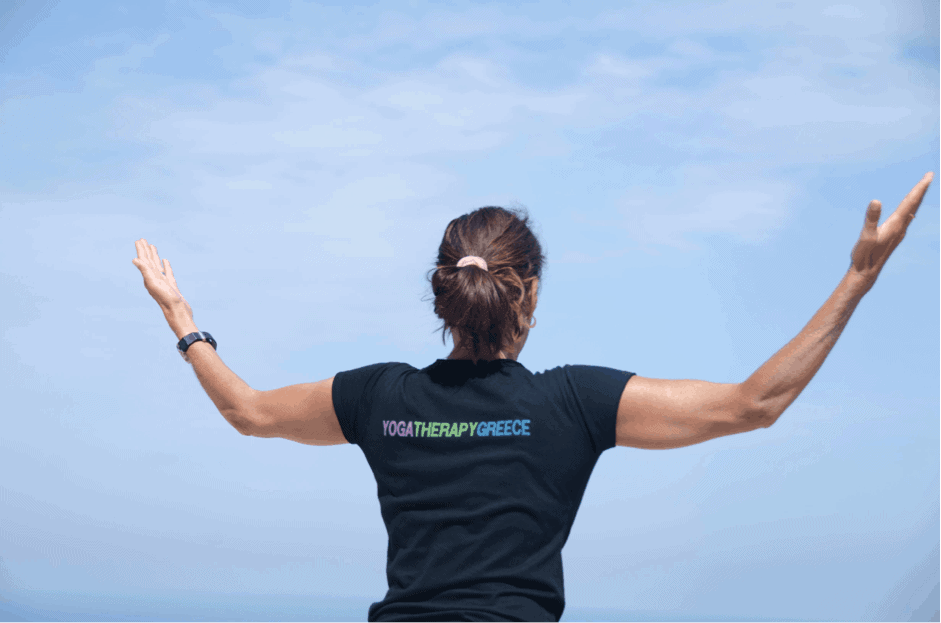 ---